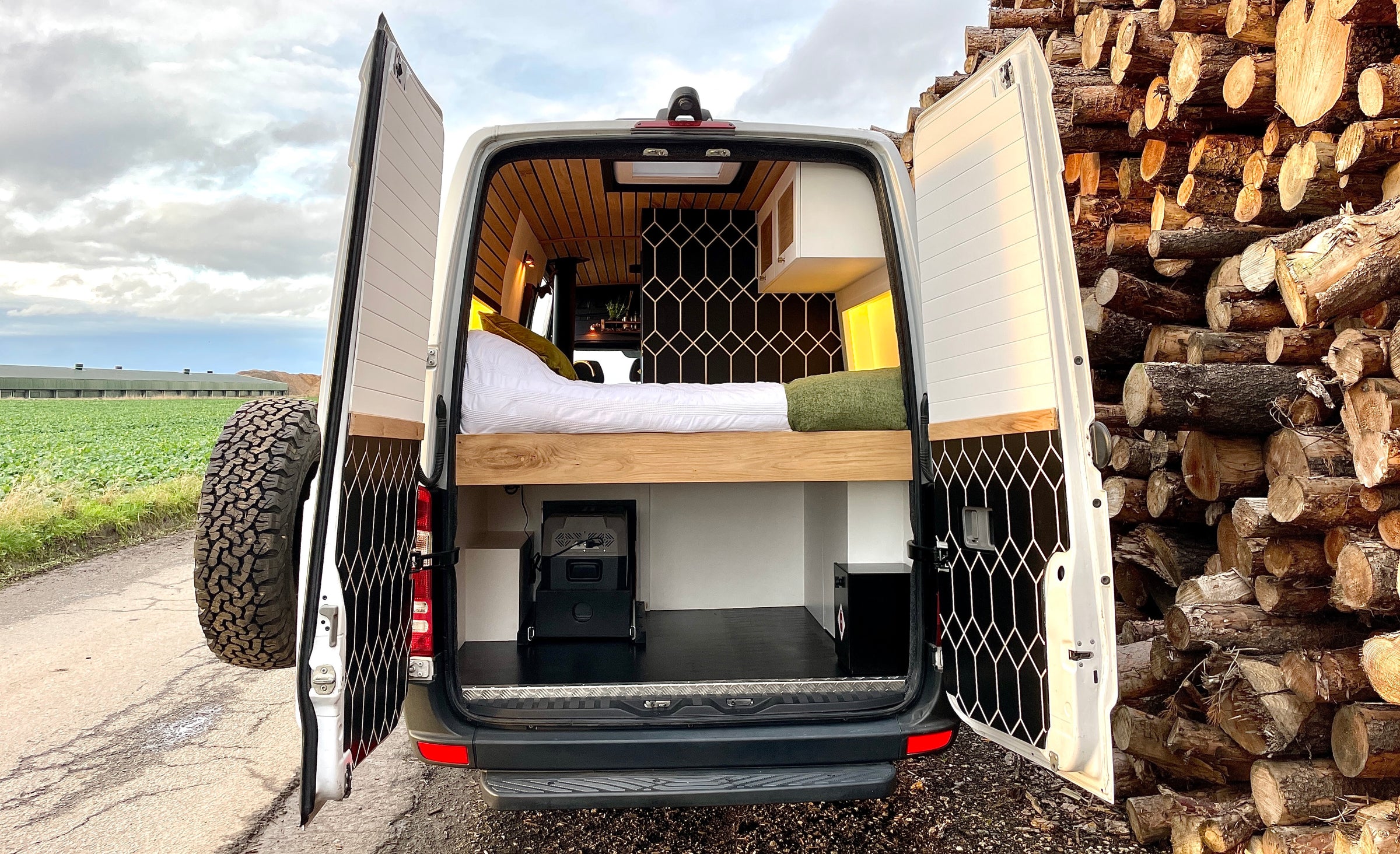 PLAN
Things to consider when planning your campervan conversion.
Our next build slots are April 2025. Please refer to our Campervan Conversion page for the most up-to-date information on available dates.
After viewing our Campervan Conversion page containing layouts, prices and build slot availability now 2025 please contact us via our contact form or a phone call.
We will then ask you to fill in a simple questionnaire so that we can provide a quotation.
If you are happy to proceed a deposit of £2400 will be required to reserve a build slot for you. Deposits are non-refundable.
Absolutely! Our expertise lies in guiding you through the process of evaluating vehicles. From highlighting important aspects to watch out for during inspections, to arranging virtual viewings via zoom calls, we've got you covered. And if you need help sourcing vehicles, Laura is here to lend her expertise.
Although we don't hold open days, you can find detailed information about our builds, oiur workshop, and team right here on this website.
For the best results, it is recommended to choose vehicles that are a few years old or slightly older, along with lower mileage. In our experience, sprinters have proven to be exceptionally reliable and can easily run for hundreds of thousands of miles when well taken care of.
We've recently bought a van with only 17,000 miles however this was expensive, our last personal build was 60,000 and our very first van had 90,000.
Your budget and the brand of vehicle you choose are crucial factors to consider. Although Boxer, Relays, and similar options may not have a lengthy lifespan, they are notably more affordable and better suited for 4 berths. Your requirements should be taken into careful consideration.
We'll be publishing a post about this soon.
Absolutely! Our fleet includes MWB and LWB Sprinter vans that come with a shower and a wood burner. These vehicles are all owned and managed by our partner Lisa under our Brown Bird brand. More information on this coming soon. For now please contact us for more information.
Sorry we do not provide finance.
We have several options that we can suggest to our customers.
Unfortunately, we cannot offer this particular service at this time.
Our workmanship is covered for a period of 1 year, subject to terms and conditions.
Equipment used in your build have warranties between 1 and 10 years depending on the product.
Although we do not provide vehicles directly, our team is here to assist you in finding the right one. We can offer valuable advice on how to source and evaluate vehicles.
To ensure your build slot is reserved, we ask for a deposit of £2400. The first instalment of 33% of the conversion total is needed four weeks before the start date. Following that, a second instalment of 33% is required one month into the build. Finally, the remaining payment should be made upon collection of the campervan, after deducting the deposit.
Deposits made to secure a build slot are non-refundable.
Design
Consider what you will be using your campervan for.
We currently have 4 signature layouts that can be adapted. Please see our Campervan Conversions page for more details.
Unfortunately, we do not provide 100% bespoke designs. However, our expertise lies in our signature builds, and we now offer several layouts that can be customized to fit various vehicles. If you require a pet den or would like a pull-out bed instead of side pods, we are able to make some adjustments.
Personalize your space by selecting colors for your kitchen, furniture, door handles, and shower cubicle tiles. Enhance the look of your ceilings with a range of finishes and add unique patterns to your door cards and internal walls.
Absolutely! We have campervan layouts available that come with showers onboard. Be sure to check out our Nevis layout to get all the details. Additionally, showers can be added to both MWB and LWB campervans.
Yes, we offer the option to remove the bulkhead in our camper builds. Please check out our Snowden layout which includes swivel seats.
Yes we love to upgrade the exteriors of campervans. Our range of services includes vehicle wraps, alloy upgrades, roof racks, ladders and wheel carriers, suspension upgrades, and body work improvements.
Yes we can. Our expertise includes insulating pipework and tanks, fitting heating probes, and installing Roamer Extreme Lithium Batteries and upgrading electrical systems. We can offer valuable guidance on managing in extreme winter conditions while traveling.
We are able to install trackers, immobilisers, and deadlocks for your campervan. In addition, we can provide you with day-to-day safety advice on your travels.
Unfortunately, at this time, we are unable to supply these particular products.
Build
From empty panel van to campervan.
VW Campervans are 6 weeks
MWB Campers are 8-10 weeks
LWB Campers are 10-12 weeks
Please note that the time frames mentioned are approximate and can be influenced by design considerations, the availability of materials, and equipment.
We can schedule a suitable time for you to bring your campervan to us. Typically, this occurs about a week prior to the start of the build. Alternatively, you have the option to organize a driver to bring the vehicle on your behalf.
Of course you are welcome to visit to see progress on your build. You would need to book a time in with us first.
Yes we set up a WhatsApp group with our customers so that we can update you on progress and answer any questions you may have. We send you photographs throughout the build until the last couple of weeks before handover. We keep the final stages secret so you have a surprise on collection.
Before the handover, we will provide you with the campervan user manual a few days in advance. Take the time to review it thoroughly and feel free to ask us any questions on the day.
Final payment must be transferred at time of collection.
We will spend a couple of hours with you providing guidance on the proper use and maintenance of your campervan. Once you are satisfied with everything, you are ready to embark on your journey.
Yes, we stay in touch with all our customers and have met with several of them in different locations. We enjoy seeing our builds and customers. Recently, we remotely assisted a customer who had left a vent open during strong winds and caused damage. We will strive to help you get back on the road.
Yes we have several guides on areas in the UK with stop overs and itineraries.
Yes we can, we don't publicise park ups online but happy to share some with our customers. We also recommend using:
1 - Britstops, a network of farms shops, pubs & vineyards, and other fantastic locations that invite campervanners to stay for one night — free of charge! Just pop in for a drink, meal or buy some local produce. It's a great way to travel and visit new locations and you are helping to support local businesses too.
2 - Some Forestry Commissions now allow camping over night for a small fee.
3 - Some local councils now allow campers to park in allocated car parks.
Please be respectful at all times and park considerately. Do not dump grey water, empty toilets or leave rubbish in any location.