Campervan Layout With Shower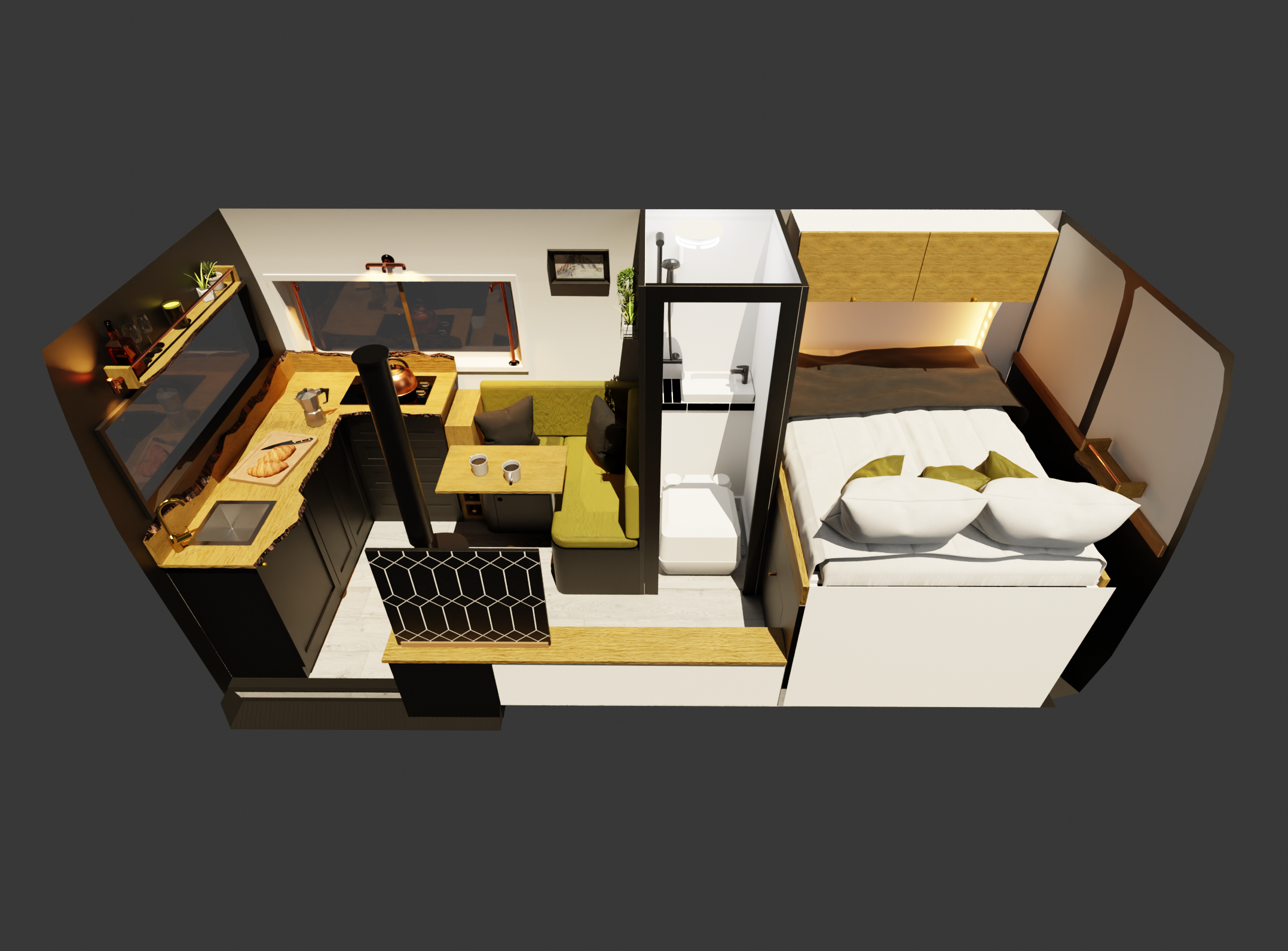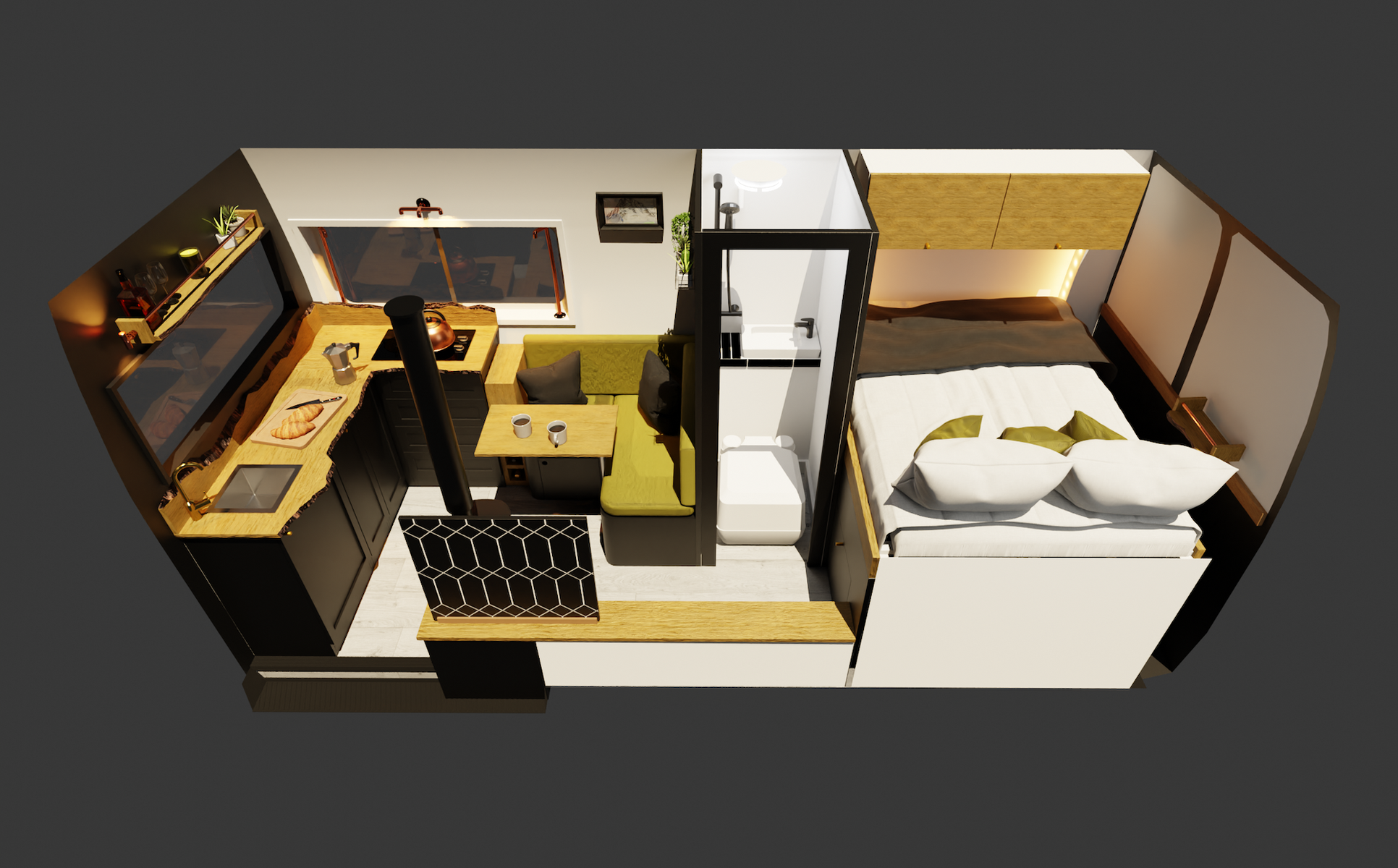 Campervan Layout With Shower
OUR NEVIS BUILD
We've had our signature layout without a shower for a couple of years now. We were always reluctant to use valuable space for a shower cubicle. Due to customer demand we decided to come up with a new layout that did not compromise on space and still retained our distinctive design style.
Our goal whilst designing and building a Long Wheel Base Campervan with a shower was to create a campervan where the shower disappeared. Our Nevis design achieves this by using the shower to separate the bed and living area. Adding bold colour, patterns and a full length mirror creates the illusion of a much bigger space.
Having lived many years in campervans we understand how essential it is to create beautiful and practical spaces. The designs we create we would happily live in our selves. We love the Nevis design so much we are building our next flagship camper to be similar to the Nevis build.
Relax In Comfort
The layout includes a large L-shaped curved sofa that can be converted quickly into a third bed, inside there is plenty of storage for bedding. Our Nevis design has a large practical kitchen with our iconic live edge oak worktop. Plenty of practical kitchen storage, a gas hob, sink and even a hidden drawer to maximise the space.
She has handmade copper lights and down lights throughout which produce a lovely warm light. There is plenty of space to lounge around in we balance space with storage. We love storage but not too much we don't want our campers to feel cramped or cause the vehicle base weight to become too heavy.
Lastly the design can include a beautiful wood burning stove by Anevay which is built by our lovely friends down in Cornwall. The stove is perfect for campers and tiny homes. We've placed by the sliding door so you can cosy up on the sofa in front of a fire and admire the views. Which is exactly what we love doing.
BUILD SPECIFICATION
KITCHEN
Full size L-shape kitchen with beautiful live edge Pippy Oak worktop and splashback. There are 4 kitchen drawers which are all soft close, an 80cm unit for food storage, a 60cm unit which houses the sink and has space for toiletries and a bin. You can also have a 20cm wide pull-out larder or a unit with shelves. A very practical round stainless steel sink or upgrade to square dark gunmetal option.
SEATING / THIRD BERTH
Stylish L-shaped curved sofa there is a large storage area under the sofa for bedding and clothes storage. The sofa can be extended to a (optional) third berth with our pop-up bed solution. It takes seconds to set up and still allows room for you to move around in the camper.
TABLE
Live edge oak or oak veneer table top on Lagun 360 degree swivel table leg.
TOILET
Dometic 976G Portable Toilet. A practical, compact large capacity loo.
SHOWER CUBICLE
Fully lined cubicle with handbasin, tap and shower mixer. Custom made stainless steel powder coated shower tray. Choice of tiles around the basin.
BED
Width ways bed across the back of the camper using side pods to extend the internal space. 135cm x194cm double bed with memory foam topped mattress.
STORAGE
Upper storage cabinets with solid oak doors, knurled brass door handles, soft close hinges and heavy duty magnets. A great space for clothing. We use packing cubes in here to keep our clothes organised.
Large storage areas under the sofas with dividers to keep things organised. Low level storage with solid oak doors, soft close hinges and heavy duty magnets. Perfect for storing shoes.
Over cab storage with solid oak doors, knurled brass door handles, soft close hinges and heavy duty magnets.
HEATING
Truma Combi heating and hot water system. It comes with a digital controller with in built thermostat so it automatically clicks in and out according to the desired temperature. You can also use the timer so you can wake up to it being warm or come back from a day out to a warm van!
LIGHTING
Handmade copper lights throughout and custom made CNC feature lighting.
INSULATION & VENTILATION
Insulation is incredibly important to keep a camper warm in winter and cool in summer as well as reducing condensation in the living space. We either use professional spray foam insulation or use traditional building insulation such as Celotex 25 and 50mm foam board, spray foam in the tricky to reach spots, earth wool, silver bubble wrap and aluminium tape to create a vapour barrier.
GARAGE AREA
Electrics cupboard with hinged door to keep everything safe and LED light. Boxed in area with access to Truma Combi heating and hot water system. Rubber flooring.
ELECTRICS
Our Nevis design includes a full Victron and Blue Sea electrics system located in the garage area. Powered by DC charging, solar charging and hook-up. We include 300w of flexible solar panels, they are light (important on a LWB build) and discrete. We use Roamer Lithium leisure batteries (size dependant on needs but minimum of 230ah). The electrics are designed so that the van can be used fully off-grid but without being over-spec'd if not needed. We find out exactly what the customer needs and then design the electrical system around them. There are various upgrades available including remote monitoring of your electrics if required. However we find our tried and tested standard setup works perfectly well for most of our customers.
EXTERNAL & SECURITY UPGRADES
We offer several options to transform the exterior of your camper. Including vinyl wraps, alloys, all terrain tyres, wheel, ladder and roof racks, pop-tops, mobile internet and many more options listed below.
We also assist with several security enhancements to your vehicle including trackers and immobilisers which are Thatcham rated.
Photorealistic 3D Renders
We can now offer a 3D render of your chosen design and colour scheme. The Nevis layout includes a graphic pattern unique to your build. 3D visuals are a great way to see your finished campervan before we start building
Interior
Standard Equipment
Thetford Twin Gas Hob
Compressor Fridge
Stainless Steel Sink
Shurflo Water Pump
90ltr Fresh Water Underslung Tank
70ltr Grey Water Underslung Tank
Stainless Steel Shower Tray
Shower Mixer/Mixer Taps and Basin
Truma Combi Disel/Electric Heater
25ltr Underslung Gas Tank
MaxxAir MaxFan Deluxe
MaxxAir Skylight
MaxxAir Dome Vent/LED Lights
Anevay Shepards Stove and Oak Plinth
Handmade Copper Lights
Oak Ceiling With Brass Fittings
Upper Cabinets/Oak Doors/Brass Fittings
Live Edge Oak Worktop
Kitchen Units/Pull-Out Larder/Soft Close Drawers/Ash Doors
Oak Table/Lagun Table Leg
Side Pods/195cm Width Ways Memory Foam Bed
Tinted Bonded Side Windows/1x Slider Opening
Standard Cab Mats
Optional Upgrades
Induction Hob for Gasless Systems
Third Berth
Premium Toilet/Compost Toilet
Thicker Memory Foam Mattress
Powder Coated Steel Shower Tray
Choice of Sink and Taps
Electrics
Standard Equipment
300 Watts Solar
Victron Orion Smart Charger
Victron MPPT Smart Solar Charger
Victron Lynx Distributor With LED Fuse Indicator
Victron Multi-Plus 1200W
Blue Sea Fuse Box/Kill Switches/Voltmeter
Gas/Water Gauge
Cob LED Bed Pod Lighting
Wireless Charging Pad
USB & USB C Charging Ports
3 Pin Socket
C-Line Fittings
Consumer Unit
Electric Hook-Up
Electrics Cabinet With Door
Optional Upgrades
Hidden Hook-Up
Air Conditioning
Larger Capacity Lithium Roamer Battery
Roamer Extreme -40c Lithium Batter
Higher Capacity Victron Multi-Plus Inverter Charger
Victron Cerbo Display, Monitoring and Remote Control System
Victron Battery Protect
Victron Buck Boost 50A Charger
Water Tank Heater Probe
Vehicle
Standard Equipment
Standard Cab Mats
Side and Rear Door Trims
Optional Upgrades
Pop-Top Bi-Fold Roof
Black Bonnet Wrap
Vehicle Graphics
Raptor Sills
Snorkel
Sliding Door Step
Awnings Fixed or Slide-In
Tinted Bonded Rear Windows
Winterising Utilities
Premium Cab Mats
Magnetic Window Panels
5 Tonne Leaf Springs
Suspension Upgrades
Security Optional Upgrades
Immobiliser
Tracker
Deadlocks
Reversing Camera
Reversing Sensors
Weight Considerations
Please note we do have to make sure that your build does not become over weight especially on long wheel base vehicles. Every component and additional upgrade will add weight to your campervan. We have to balance design, functionality and additional kit to make sure your campervan has enough payload left for passengers, water, food and belongings etc. Please carefully think about what you require in your build, we are here to help offer advice on this.
PRICE
Long Wheel Base Vans: (e.g. sprinter/crafter) Start at £30,000 + VAT without a shower and £34,000 + VAT with a shower. 
These are approximate prices, design considerations, materials and equipment prices fluctuate. 
Excludes vehicle, we can help source vehicles if required. Contact us below with any questions.
SOME OF OUR NEVIS LAYOUT CONVERSIONS
ETIVE
ETIVE
ETIVE
CATBELLS
CATBELLS
CATBELLS